International Driving Permit
IDP: Drive Anywhere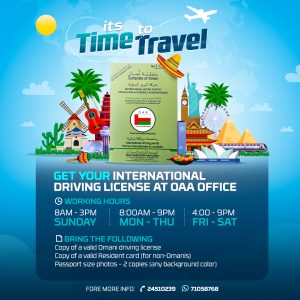 INTERNATIONAL DRIVING LICENSE

Are you planning on travelling abroad from Oman and driving while you're there? Perhaps you're heading over to Germany for a big company event or road-tripping across the beautiful cities in France with the family. Whether it's for business or pleasure, if you're planning on jumping behind the wheel while abroad, first check to see if you require an International Driving License or Permit. If so, make sure to apply for one to avoid complications while travelling.
WHAT IS THE INTERNATIONAL DRIVING LICENSE?
The International Driving License (IDL) or Permit (IDP) enables travelers and tourists to drive in many countries in a legal and safe way, without the trouble of being questioned by authorities or incurring fines.

The IDL is a United Nations convention, and a legal requirement.

It is an internationally recognized translation of your driving license allowing motorists to drive outside of Oman legally, without the need for further tests and applications.

Omani nationals and residents who wish to drive abroad, need to apply for an IDP via the Oman Automobile Association.

You must always have your IDL along with your national license at all times.
HOW TO GET AN INTERNATIONAL DRIVING LICENSE
If you require an internatonal Driving License, you can obtain your International Driving License in a number of ways:
In person – simply visit the Oman Automobile Association in Muscat

Via WhatsApp or emails – documents can be sent electronically as long as you or someone you know visits our reception for collection

Omani Post Offices
Documents required:
IDL Form

Valid Residency & Omani ID

Copy of Valid Omani License

2 x Photos
Prices
OMR 19.500 : IDL
Contact:
You can also place a call to our office in Muscat for further information:
Call +968 24 51 06 30
Whatsapp: +968 71058768